Operation Backpack® Honored by New York Yankees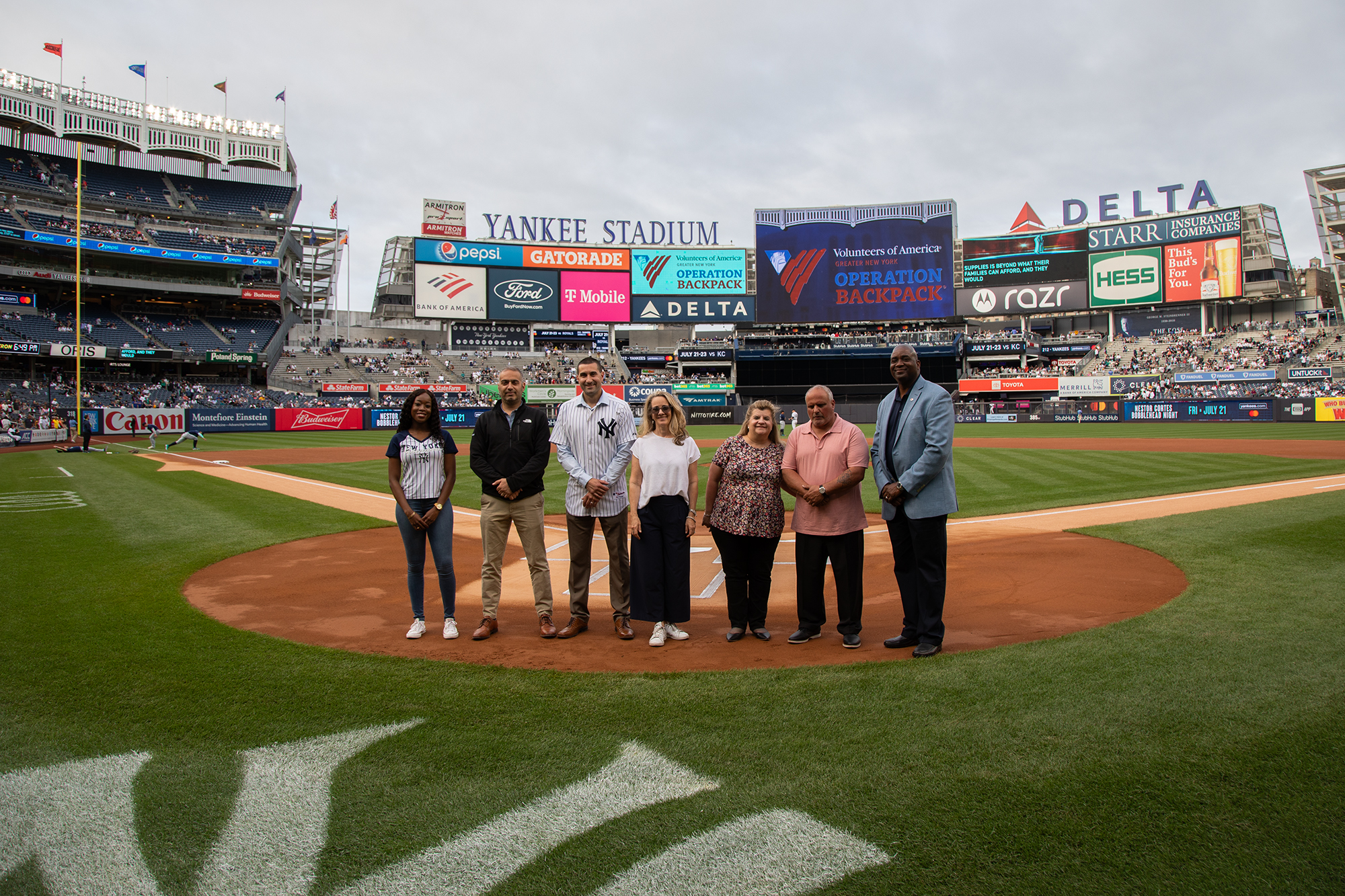 On Thursday, June 22, Volunteers of America-Greater New York (VOA-GNY) was once again honored in a special home plate ceremony by the New York Yankees to recognize the efforts of Operation Backpack® and raise awareness of family homelessness in New York City. The Yankees last hosted the nonprofit in 2019, highlighting this important annual campaign.
In attendance were representatives from a number of longtime corporate supporters of VOA-GNY and Operation Backpack® including Reginald Goins, VOA-GNY Board Vice Chair and COO, The Honickman Companies; Jim Cianci, Director of Treasury, Cerberus; Laura Last, Chief of Staff, Loews Corporation; Nick Porcaro, Director of Pharmacy & Retail Operations, Walgreens; and Josie and Danny Darretta, Owners of Wakefield Distributors, Inc.
A PSA featuring award-winning actress and producer, Julianne Moore, was also played as part of the ceremony.
VOA-GNY's Operation Backpack® campaign is only possible with the support of many community partners who offer their support in the form of financial underwriting, donations of products and services, and spreading the word and engaging others in the campaign.
This year, the need for community support is greater than ever, with the number of children experiencing homelessness more than 50 percent higher than last year. VOA-GNY depends on its supporters to ensure every child living in a New York City homeless shelter has a new backpack and the grade-specific school supplies they need to succeed in the classroom and beyond, but we need more community supporters to step up to the plate to make this a reality.
Learn more about how you, your company or your community group can help ensure that no child experiencing homelessness goes back to school without the supplies they need.