Partner Spotlight: Flagship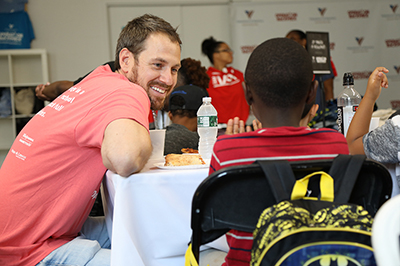 It's not often that the start of a great partnership can be attributed to a ride in a taxi cab, but in the case of Flagship Founder & CEO Jonathan Krieger, it was. Jon saw our Operation Backpack® public service announcement on taxi TV this summer and it so moved him that he called that day to arrange a meeting with "Backpack" founder, Rachel Weinstein, to learn more. He was eager to discover how he and his company could help. He was appalled to learn that in this city of such wealth there could be so many students experiencing homelessness.
Jonathan immediately offered his Taco Dumbo and Bridges General retail outlets – brands within the Flagship portfolio - as official Drop Locations, where the public could contribute to Operation Backpack® by bringing donations of new backpacks and supplies to those locations. During Sort Week, the culmination of the drive, when thousands of volunteers prepare the backpacks for delivery to the children, Jonathan visited and was paired with a child from one of our shelters, and together they selected and filled a backpack with supplies. After this experience, which aligned with Jonathan's company's values and socially conscious business model, he offered to hold a fundraiser to benefit Operation Backpack® at Flagship's event space at 399 Lafayette Street. There he was able to introduce family, friends and business associates to the community service campaign that had touched his heart.
After having reflected upon on his experience with the children he'd met during Sort Week, Jonathan expressed a desire to do even more and wanted to focus on the children's families. We are in discussions now to extend Flagship's job training program to the mothers of the children in our shelters. In addition, Jonathan is serving on the event committee for our annual fundraising gala, A New York Winter's Eve, to be held at The Plaza in December.
What's next, we can't wait to see!